Some of the advantages of self-clinching fasteners are:
Permanently installed in an assembly, self-clinching fasteners provide strong threads in metal sheets too thin to be tapped, and have enabled the development of many thin-metal designs that otherwise would not be possible.
As an example, design requirements for orthogonal chassis construction usually are satisfied by bent tabs and relief slots, brackets and hardware, or welding. However, each of these methods to produce right-angle assemblies has been known to exhibit performance or production drawbacks.
In enclosures where EMI is a concern, the "holes" created when bent tabs are used can impact negatively on desired shielding. Welding tabs is an extra production step, and plating and finish problems can occur. Where right-angle brackets are used for mounting, a variety of additional necessary hardware includes attaching screws, washers, lockwashers, and nuts, which tend to hamper assembly time and increase parts inventory.
Here are some of the typical reasons design engineers specify self-clinching fasteners (whether right- angle clinch or other types):
Self-clinching fasteners are often the most practical and effective joining method for thin-metal assemblies (the fasteners are designed for permanent installation in metal sheets or panels as thin as 0.020 inch/0.51 mm).

The fasteners are relatively small (even miniature types are available) and require less "real estate" for attachment, which meets smaller, lighter packaging requirements of today's designs, especially those applications in the electronics industry.

Once installed, self-clinching fasteners do not loosen and will not fall out, which ensures that delicate internal circuitry is protected from hardware damage.

The fasteners eliminate the need to stock, use, or handle additional hardware (such as washers, lock washers, loose nuts, or bolts); accompanying thread-forming screws leave no metal residue.

Self-clinching fasteners can accelerate end-product assembly, because hardware installation is usually performed during fabrication instead of during final production.

Self-clinching fasteners allow for component disassembly for service or other reasons.

In those cases where nuts and screws for completing final attachment cannot be reached after a component is assembled, self-clinching fasteners (specified for installation during the initial fabrication process) can simplify and expedite component mounting and assembly operations.
Download the India Fastener Mobile Application
Using right-angle fasteners on this electronic enclosure cut the total number of fasteners in half and cut assembly time from 1.5 hours to 15 minutes.
Installation procedures. Regardless of fastener type or variation, all self-clinching fasteners are installed by pressing them into place in a properly sized drilled or punched hole. This pressing or squeezing process causes displaced panel material to cold flow into a specially designed annular recess in the shank or pilot of the fastener, locking the fastener in place. A serrated clinching ring, knurl, ribs, or hex head prevents the fastener from rotating in the metal when tightening torque is applied to the mating screw or nut.
The advantages of self-clinching fasteners multiply when a fastener can function as a right-angle attachment point.
Material compatibility. Designers should keep in mind that the fastener material must be compatible with the panel or sheet material. In addition, the fastener hardness must be greater than the hardness of the panel material into which it is installed. A general rule of thumb is that the fastener should be at least 20 points HRB greater than the panel or sheet material hardness. (Punched holes will produce an increased hardness around the mounting hole.)
Individual application requirements will largely direct design engineers to specific self-clinching fastener types, which traditionally fall into one of four primary categories: nuts, studs, spacers/standoffs, or panel fasteners.
Regardless of self-clinching fastener type or variation, all demonstrate conformance to principles of Design For Manufacture and Assembly from the outset of a component's design through to its final assembly.
They provide strong threads in very thin material.
May be installed using any standard Arbor press.
Provide high push-out and torque-out resistance.
Do not require special hole preparation, such as chamfering and deburring.
Reverse side of material remains flush.
No re-tapping necessary after application.
Low installed costs, fewer parts to handle, fewer assembly steps and less assembly time.
When considering fasteners, it is important to consider if a self-clinching fastener should be specified. Whenever a component must be readily replaced and where "loose" nuts and hardware aren't going to be accessible, then a self-clinching fastener should be utilized. If you are building a chassis, enclosure or cabinet, consider if the "nuts" and "screws" can be reached after it is assembled. If your answer is they are not accessible, then self-clinching fasteners are the solution to your problem.
Broadly defined, a self-clinching fastener (also known as clinch or captive fastener) is any device, usually threaded, that, when pressed into ductile metal, displaces the host material around the mounting hole, causing it to cold flow into a specially designed annular recess in the shank or pilot of the fastener. A serrated clinching ring, knurl, ribs or hex head prevents the fastener from rotating in the host material once it has been properly inserted. Thus, self-clinching fasteners become a permanent part of the panel, chassis, bracket, or other item into which they are installed.
Generally, self-clinching fasteners take less space and require fewer assembly operations than caged or anchor nuts. They also have greater reusability and more holding power than sheet metal screws. They are used chiefly where good pullout and torque loads are required in sheet metal that is too thin to provide secure fastening by any other method. Even if the sheet is thick enough to sustain tapping, it may actually be more economical to use self-clinching fasteners with gaugeable threads. They can be installed during fabrication or during final assembly to eliminate loose hardware. In fact, the use of self-clinching fasteners often will support a thinner sheet metal, and permit a real reduction in installed cost over the cost of other fastener designs. Because of their compact design and low profile, they provide for a neat appearance, too.
As a rule, a self-clinching fastener should be specified whenever a component must be readily replaced and where "loose" nuts and hardware wouldn't be accessible. If the attaching "nuts" and "screws" can't be reached after a chassis or cabinet is assembled, self-clinching fasteners can be installed during metal fabrication and can simplify and expedite component mounting and assembly operations, including those performed in the field.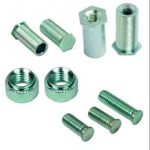 self-clinching nut is a type of nut or threaded insert that is used on sheet metal.
It permanently anchors itself to the sheet metal by swaging the surrounding material. Generally, the swage nut is made of a hard metal such as stainless steel, which is inserted into a pre-drilled hole in a softer ductile material such as aluminum. The inserted shank has three diameters: a main shaft which fits the hole closely, a thin smaller-diameter undercut, and a larger-diameter serrated clinching ring. Forcing the clinching ring into softer material, with an arbor press or by tightening a screw through the hole, causes it to plastically deform (swage) into the annular recess in the shank. This locks the nut into the hole. The knurling on the clinching ring is not necessary for this step, but prevents the nut from rotating after installation.
This is a popular method for adding strong, load-bearing threads to a relatively thin piece of soft sheet metal.
Types Of self-clinching nut
1,Self-Clinching Nut
Self-Clinching Nuts provide strong reusable female threads in panels that are too thin to be conventionally tapped. Utilising a special proven clinch feature, this fastener has excellent torque-out and push-out characteristics whilst providing a flush finish on the underside of the panel. Like all self clinching fasteners they are installed using a parallel squeezing force so require access to both sides of the panel. Clinch Nuts are available in various thread sizes, manufactured from electro zinc plated steel, 300 and 400 series stainless steel, and aluminium and are suitable for installation in ductile steel and aluminium panels with a recommended maximum hardness of 80 HRB for steel parts, 70 HRB for 300 series stainless steel parts, 90 HRB for 400 series stainless steel parts and 50 HRB for aluminium par,
2, BLIND NUT

5,LOCKING NUT
SELF CLINCHING STAND OFFS are designed to serve as spacers or distance pieces. A simple squeezing action embeds the hexagonal
head into the sheet causing the displaced metal to flow into the clinching groove.
clinching gro
TYPES OF SELF CLINCHING STANDOFFS,
6,CONCEALED HEAD STAN

TYPES OF SELF CLINCHING STANDOFFS,
| STEP 1 | STEP 2 | STEP 3 | STEP 4 |
| --- | --- | --- | --- |
| | | | |
| Select the appropriate hole size from the table below for the stud size required. Punch the hole diameter into the sheet material and place the material on top of the appropriate anvil. | Place the stud so that the head serrations rest on the parent material. Ensure both plate and stud are aligned along the same axis. If not, the joint will be imperfect and mating threads will mis-align. | Using a flat faced profiled punch, apply only sufficient pressure to 'squeeze' the stud head and its underhead tooth features into the parent sheet metal. | The tooth locking feature if properly installed will provide torsional (rotational) resistance. After installation the spigot joint should be flush with the sheet metal |
TYPES OF SELF PANEL FASTENERS.
1,FLUSH PANEL SCREW ASSEMBLY