India Fastener is Number One In Business Aggregator for Fasteners & provides Std & Weight Count Solution.
IF has been started off with an initiative to link the ever growing field of technology with the world of fasteners. We have started off with an mobile solutions that facilitates you while handling your day to day weigh count issues. We already have the app for Android and iOS.
In all our efforts the core focus is innovation, and improving products for the end users. We strive extra mile to make sure you get the best and the solution helps you to focus on your core business.
Download the India Fastener Mobile Application
Advertisement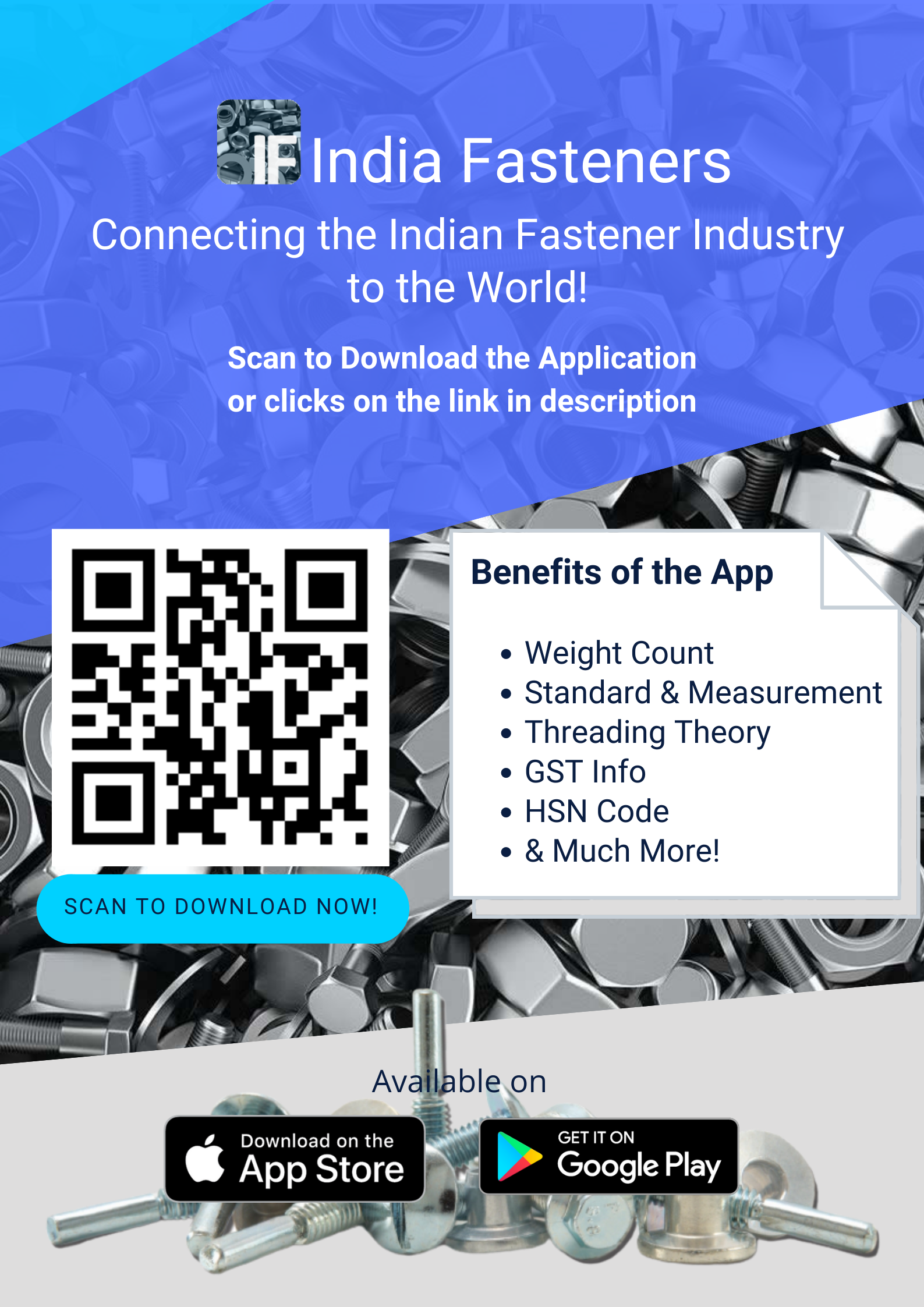 this is india fasteners app logo
India Fasteners App Proved Various Solution In The Field Of Fasteners
Weight Count Solution In (Inch" & Metric {mm} )
1. Hex Half Thread Bolt & Nut
2. Hex Full Thread Bolt & Nut
3. Hex Full Thread Bolt Only
4. Hex Half Thread Bolt Only
5. Hex Nut Din 934
6. Lock Nut Din 439
7. Washer As Per Is 2016
8.  Dome Nut Din 1587
9. Hex Weld Nut Din 929
10. Chess Head Machine Screw
11. Csk Philips Head Machine Screw
12. Pan Philips Head Machine Screw
13. Slotted Csk Head Machine Screw
14. Round Head Rivet (In Inch Only )
15. Square Head Set Screw (In Inch Only )
16. Round Head Square Neck Bolt Only (In Inch Only )
17. Round Head Square Neck Bolt & Nut Only (In Inch Only )
18. Fully Threaded Bars/Rod (In Inch)
More To Come
Standard & Measurement Solution 
1.  Hex Half Thread Bolt Din 931
2.  Hex Full Thread Bolt din 933
3. Wing Nut Din 315
4. Dome Nut Din 1587
5.  Square Thin Nut Din 562
6. Square Nut Din 557
7. Big Nylock Nut Din 982
8. Small Nylock Nut Din 985
9. Flange Nut Din 6923
10. Washer Din 125
11. Allen Cap Din 912
12. Allen Csk Din 7991
13. Csk Philips Screw Din 965
14. Pan Philips Screw Din 7985
15. Csk Philips S/T Screw Din 7982
16. Pan Philips S/T Screw Din 7981
17. Flat Point Grub Screw Din 931
18. Con Point Grub Screw Din 914
19. Cup Point Grub Screw Din 916
More To Come